(Continued)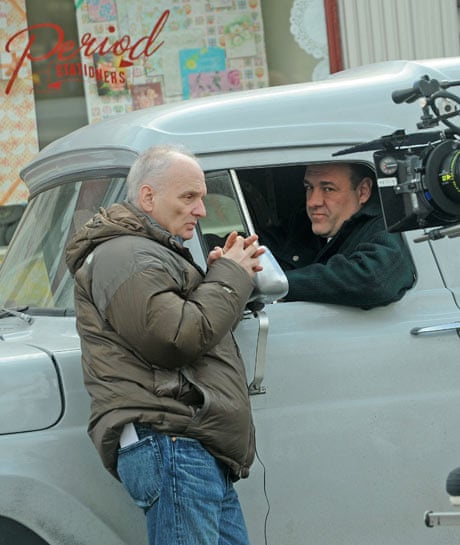 "The theme of that episode was "Made in America." I used that title not only because Tony's a made guy, and all these guys are made guys, but also because it was about the extreme amount of comfort Americans have, especially people with money. And specifically, it was about the war in Iraq—it was made in America, and as you saw in the show, Tony and Carmela just didn't want their son to go, and they could afford to see that their son didn't go. Like some of our leaders.…Not to get too didactic about it, but it was really sort of about how we are going about our amply fed, luxury-car life here, and the world is going to hell and we're under tremendous threat. And people don't want to see it".-David Chase (GQ Magazine)
The next scene I wish to highlight is to me, one of the strangest of the whole entire show in its cut technique. The technique they use and the way the cut is placed in the pacing of the show is totally bizarre and out of the ordinary, as if to say to the viewer "pay attention". In the episode "Fleshy Part of the Thigh" the Evangelical preacher visits Tony and hands him the book "Born Again" written by Charles Colson, one of the people involved in the Watergate Scandal further invoking said scandal in this episode with the other reference being "Deep Throat" actor Hal Holbrook losing his larynx. After the preacher leaves Hesh and his daughter are talking with Chris and Tony;
"What's he saying? There were dinosaurs back with Adam And Eve?"-Chris
"I guess."-Tony
"No way.T rex in the garden of Eden? Adam and Eve would be running all the time, scared shitless. But the bible says it was paradise."-Chrissy
"You can disagree with evangelicals, But they're great friends of the Jews because Israel is the holy land."-Beth Kaplan
"You wait."-Hesh
(Mysterious quick fade to black as if the episode is over)
Go back and watch the scene or maybe you remember it. Its very oddly placed. It feels to have this sense of foreboding or coming apocalypse. Thats why Ive included it in here. Its adds to this character of terror. While researching the topic, I came across a thread about this scene here on "The Chase Lounge". A poster known as CaliberCutChops makes some very good observations and comments;
Hesh's comments don't have anything to do with the show, but are his opinions about the current events going on in the middle east. His "You wait" is a suspicious feeling towards christian fundamentalists, who need the jews to return to palestine in order to trigger armageddon, which will call for the return of their messiah.

It's like a comment designed to get the user to wake up, and with the ominous edit to the next scene, sort of akin to providing a nugget of information for the viewer to consider. This is akin to when, in season 5, there was a discussion regarding nuclear bombs slipping through cargo containers, and Paulie grumbled how Bush was giving no-bid contracts to his friends, that action being something the mob would do too.
The next time Chrissy meets up with the Arab guys is in "Mr. & Mrs. John Sacrimoni Request…" where he meets up with them at the Bing. Apparently he has started doing a credit card scam using Vesuvios and Benny. Chrissy's friend Murmur from AA apparently has connections to identity theft and everyone involved seems to be making good money off this credit card theft.
"Ho! Where are the rest of the 40 thieves? You got it?"-Chrissy
"Good week. 120 credit card numbers plus the 3-digit security codes. But I won't charge you no extra."-Murmur
"Excellent."-Ahmed
"Don't leave home without it."-Chrissy
"No, we'll use them."-Ahmed
"No, credit cards. The commercial."-Chrissy
"So Tony's out of hospital, please give him our wishes. We brought him some dates.Also, Chris, you know how we can purchase a couple of Tec-9 semi-automatics, extended magazines?'-Ahmed
"Hold on. Tec-9's? What the fuck for?"-Chrissy
"It's a family problem. My former brother-in-law, actually."-Ahmed
"All right, fucking take it easy."-Chrissy
So from what we can gleam here, the credit cards are being used to buy weapons. Weapons for people with questionable motives. Chris seems suspicious himself when he asks what they are for, not your usual question for a mafioso. He obviously is concerned. These two guys seem to be on a mission. When each step is completed they move onto the next phase of their plans. In the next episode "Live Free Or Die" we hear more about 9-11 in a conversation Meadow has about her work with her family;
"You think it's funny? The FBI snatched their son off the street like we're some third world dictatorship.'-Meadow
"Pretty scary."-AJ
"There must have been some reason, Meadow."-Carmela
"Like he's a terrorist, maybe."-Tony
"9-11, 9-11. Bush is using it as an excuse to erode our constitutional protections, and you're falling for it."-Tony
"Well, I voted for him."-Carmela
"Right, well, you don't relate to black people clinging to logs"-Meadow
Pretty stinging commentary on the Bush Administration via Meadow. It also resonates with the 9-11 terrorism theme. Theres more in this episode though. A scene where Tony and Chris have a conversation regarding the Arabs. It appears Tony is having second thoughts or has worried feelings about it too so he asks Chris about them;
"Let me ask you something, those two Arabs, with the credit cards, fazool and whatever his name is"-Tony
"Yeah?"-Chrissy
"You think there's a chance they could be I don't know, AL-QAEDAS, something like that?"-Tony
"Hmm. You know at one point it did cross my mind."-Chrissy
"Yeah, and?"-Tony
"I don't think so. They're gun nuts but the smaller guy Ahmed, when those DANISH CARTOONS got published, he was very upset, but at the protesters.
He said he hated the cartoons but that the rioting shit would just bring bad attention to all Muslims. And the other guy Mohammed, his brother's a GOVERNMENT INTERROGATOR IN LEBANON OR SYRIA. Plus Mohammed and his girlfriend have a dog, a springer spaniel."-Chrissy
I don't know about you but Chrissy's rationelle that everythings cool with these two guys as far as being Al Queda is concerned doesnt make me feel safe. Thank god he's not in charge of Homeland security.What he just told Tony completely admits they are terrorists in my mind, without just outright saying it. Worst part, is they are shitting where Tony eats, literally. By fouling Versuvios ability to use Amex, they directly financially impact the restaurant to the point where Artie has to do the dreaded "two-fers". Once again Tony's life impacts Arties legit life via Benny.
(To Be Continued)