[SIZE="7"][font="Times New Roman"]"The Sopranos" is Dead,
but Tony is
alive\dead
….
Schrodengers cat gets a hit put out on its head(s).....[/font][/SIZE]
[SIZE="5"][font="Times New Roman"]Since Egyptian mythology has been a theme throughout this analysis and TV show it would be lacking without including the feline element. Also for all the quantum physics references its hard not to think of Schrodengers cat.
Add the fact that Godfather mythology also has a Cat, we must pause and take a moment a explore this "Pussy" (Little or Big?)Cat.There has been much debate and speculation after the Sopranos final episode "Made in America' about what exactly the Cat in the episode was meant to symbolize. Before going much further heres some examples of cats and how they are seen in mythology through out the ages;[/font][/SIZE]
[SIZE="5"][font="Times New Roman"]Some people believe that cats may be able to see the spectre of death.
Sacred cats kept in a sanctuary in ancient Egypt were carefully tended by priests who watched them day and night. The priests interpreted the cat's movements - twitch of a whisker, yawn, or stretch - into a prediction of an event that would happen in the FUTURE.
The Hindu believed the cat was the symbol for CHILDBIRTH.
In 16th century Italy, people believed that if a black cat lay on the bed of a sick man, he would DIE. However, they also believed that a cat will not remain in the house where someone is about to DIE - if the family cat refused to stay indoors, this was a bad omen.
The folklore that a cat has 9 lives possibly came about because #9 is the "trinity of trinities" and was considered lucky
"Happy is the home with at least one cat" - Italian proverb
"When RATS infest the Palace a lame CAT is better than the swiftest horse." - Chinese proverb"
"Beware of people who dislike CATS." -- Irish proverb(emphasis added)
[/font][/SIZE]
[SIZE="5"][font="Times New Roman"]"Baciagalup."-Tony (to the Cat)
( mews )
"Who does HE belong to?"-Tony
"HE just showed up during the big storm. Already caught a mouse down the cellar."-Benny[/font][/SIZE]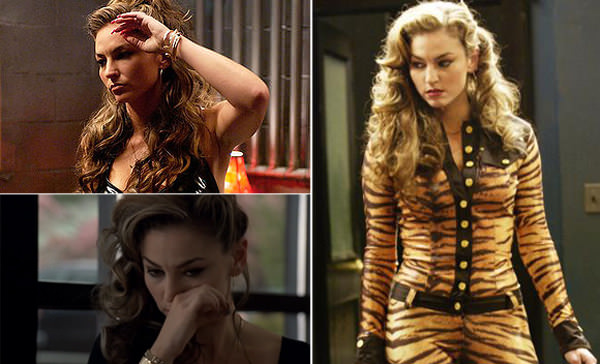 [SIZE="5"][font="Times New Roman"]Notice how they explicitly call it a HE? Not a She? This I think would eliminate the idea of it being Adrianna. In other dialogue about the Cat they continue to call it a HE as will see later.It was the only episode that this Cat appears in. We know that Chase specifically requested orange tabby cats from an article about the feline extras used for the show;[/font][/SIZE]
[SIZE="5"][font="Times New Roman"]"The Sopranos" gang may have left viewers seeing triple, but that could have been caused by the ominous stray GINGER TABBY who stole the show's final episode and, like the Sopranos, has many lives - 27, in fact.
That's because the lone feline actor was, in fact, played by three cats - Timmy, Tommy and Terry - 4-year-old IDENTICAL SIBLINGS WHO were plucked from a California field where they were abandoned as kittens.
"These were wild, stray cats that were trained to act," said their owner, Debbie Pearl, who runs Paws for Effect, a talent agency based in Los Angeles.
The talented trio was HAND-PICKED BY THE SHOW'S PRODUCERS and flown to New York from L.A., where they live on a 4-acre ranch with a menagerie of rescued critters.(emphasis added)[/font][/SIZE]
[SIZE="6"][font="Times New Roman"]The Producers seemed very concerned about this Cats appearance and breed even, to fly all the way out there. Heres some info about orange\ginger Tabbys and their interesting history;[/font][/SIZE]
[SIZE="5"][font="Times New Roman"]There is a legend which says that an orange tabby cat was blessed by Mother Mary because it stayed with Jesus and helped him fall asleep. This is why all orange tabbies have an 'M' mark on their foreheads.
Winston Churchill's (we've seen him referenced on the show)pet feline Jock was a ginger cat.He's one of the most famous men in history, and he had an orange tabby cat he loved very much. Winston Churchill's cat went by the name of Jock, and it was a very sweet cat. It even attended cabinet meetings at wartime and no one was allowed to eat at the meetings until the cat was sitting at the table to join them for their meal. Additionally, Garfield(loves lasagna) is an orange tabby and so is Morris the 9-Lives cat.(notations added)[/font][/SIZE]
[SIZE="5"][font="Times New Roman"]
One final note of interest, notice the picture above Jr.'s phone. Remember the perspective when Tony is dialing the numbers in panic to 911 on this same phone in "Members Only"? Whose perspective would it be from? Schrodingers Cat maybe?? Many theories have been throw out there on the internet for example the theory that the cat is Adrianna because of her cat like outfits seen in many appearences, some say the cat is Chris because of the scene we will discuss where he stares at the picture of Chris that is on the wall in the back of Satrieles. I say both can and could be true(as this Schrodengers cat thing goes) but I lean more towards it being Chrissy which I explained above. But before I do I should remind us of how Mr Wizard already referred to who or what the (Schrodenger) Cat was\is in reference to his theories….[/font][/SIZE]